Dental Implants – Skokie, IL
Achieve Truly Comprehensive
Tooth Replacement
Having an unsightly gap in your smile can be embarrassing. When you're missing a tooth, it can alter your self-confidence adversely if you're too worried about your appearance to have time to think about anything else. Our professional staff can help you in your time of need. Dr. Brad Weiss can place dental implants in Skokie, IL to restore your self-esteem and improve your oral health. Contact Weiss Dental Arts today to learn more!
Why Choose Weiss Dental Arts for Dental Implants?
Dental Implants Placed & Restored in One Location
In-House Dental Lab for Added Convenience
Affordable Dental Financing Available
What Are Dental Implants?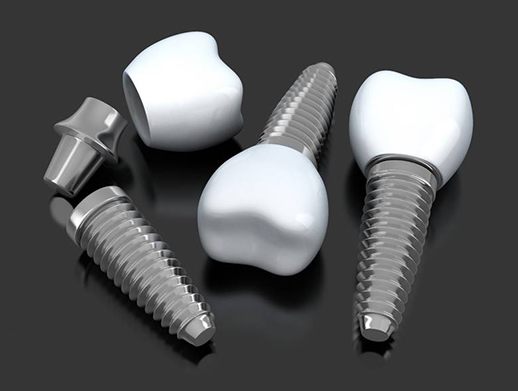 A dental implant is a small titanium rod that is surgically inserted into the socket of an absent tooth. This artificial root will eventually act as the anchor for your new tooth. After your bone and implant have fused together (thanks to a natural process called osseointegration), Dr. Weiss will be able to place an abutment and crown atop the fixture. Your dental crown (or bridge or denture, if you're replacing several teeth) can be created to blend in with the rest of your teeth and give you the radiant smile you deserve!
The 4-Step Dental Implant Process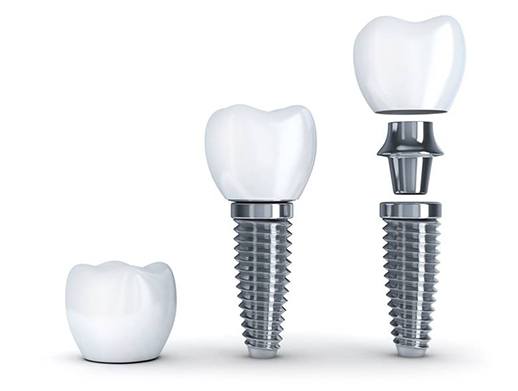 The dental implant process requires multiple appointments and takes several months longer than getting traditional dentures or bridges. However, this high-quality solution is worth waiting for! Unlike many other dental practices, our team can handle every step of the process under one roof, saving you the trouble of having to visit multiple offices. While everyone's dental implant journey is different, we've laid out some of the basics below on how dental implants work in Skokie.
Initial Dental Implant Consultation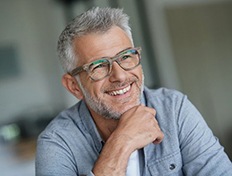 During this first appointment, we'll closely examine your smile, go over your restoration options, and work together to develop a plan to rebuild your smile, including a step-by-step timeline. Depending on the state of your oral health, we may also recommend one or more preparatory procedures, such as gum disease therapy, tooth extractions, or bone grafting, to improve your chances of dental implant success.
Dental Implant Surgery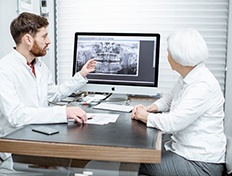 At Weiss Dental Arts, we can perform the dental implant placement surgery right here in our office. The procedure is pretty straightforward. After numbing your mouth, we make a tiny incision in the gums to expose the jawbone. Next, your implant dentist in Skokie strategically inserts the posts into the bone. Your gums are then stitched closed, and you can begin the healing process.
Dental Implant Osseointegration/Abutment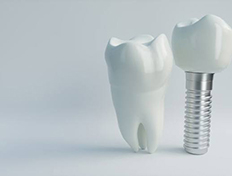 Following dental implant placement, you'll have to wait three to six months for the posts to fully fuse to your jawbone. This process is called osseointegration, and it's the key to the incredibly high success rate of dental implants.
After osseointegration is complete, you'll undergo another minor surgery in which we place abutments atop your implants. Abutments are small metal connector pieces that will allow your implants to adequately support your restoration. Once the abutments are in position, we capture impressions of that area of your mouth and use them to create your custom-made crown, bridge, or denture.
Delivery of Dental Implant Restorations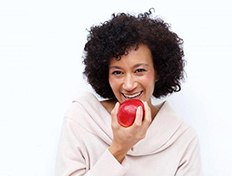 As soon as your restoration is ready, you'll return to our office, where we'll place your new teeth on top of your dental implants in Skokie. We only use the highest quality materials, such as dental porcelain, to create your restoration. You can expect your implant-retained teeth to seamlessly blend in with the rest of your smile. In fact, onlookers should not even be able to tell the difference between your implants and the rest of your teeth!
Benefits of Dental Implants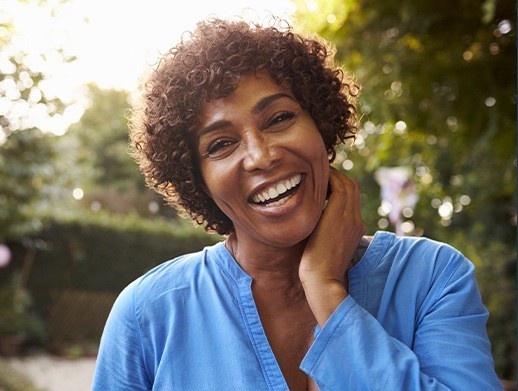 With dental implants, there are many benefits you can expect that you won't find with traditional tooth replacements. For one, dental implants integrate with bone tissue, which means your jaw becomes regularly stimulated as you chew your favorite foods. Bone stimulation is incredibly important for keeping your jaw strong as well as preventing bone resorption. While dentures and bridges replace teeth, they do not properly address either of these issues, while dental implants can.
Furthermore, chewing with dental implants feels almost identical to natural teeth. You'll never have to worry about your replacement tooth shifting out of place or becoming loose throughout your day. Unlike bridges, you don't have to modify existing tooth enamel just to achieve an enhanced smile, both in terms of esthetics and function. With routine care and regular dental visits, your dental implant(s) should last between 25 years and a lifetime. Their high success rate (95% to 98%) should give you additional confidence in your future smile.
Who Dental Implants Can Help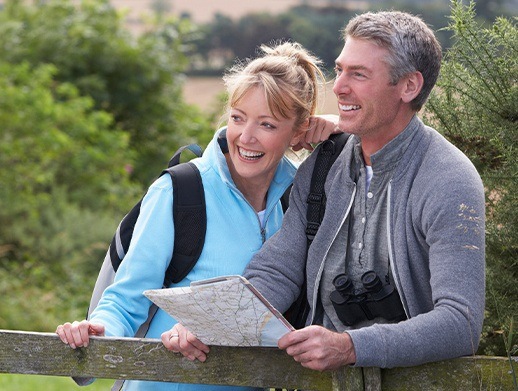 Thanks to how far dental technology and techniques have come in recent years, just about any healthy adult who has lost any number of teeth can get dental implants! Even if you're not considered a "good candidate" right away, there are ways that you can become eligible. Many of our patients actually require preliminary procedures before they're ready for dental implants in Skokie. By examining your mouth and going over your medical history, Dr. Weiss can determine whether these procedures are necessary during your initial consultation. From there, he can formulate a treatment plan to ensure long-term dental implant success.
Who Is a Good Candidate for Dental Implants?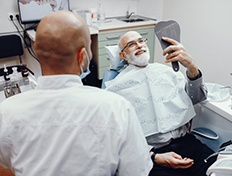 Whether you need to replace one individual tooth, all of the teeth in an arch, or somewhere in between, dental implants can seamlessly recreate your smile. However, there are generally three qualities we look for in a good dental implant candidate:
A mouth that is free from decay, infections, or other oral health issues
Overall health that is good enough for you to undergo minor surgery
A jawbone with enough density to accommodate dental implants
If you don't have all of these qualities, don't worry. As a highly experienced dental implant dentist in Skokie, Dr. Weiss can work with you to make sure your new teeth will have a healthy foundation.
Once you're ready, we'll determine which type of dental implant treatment is right for you based on the number of teeth you're missing:
Missing One Tooth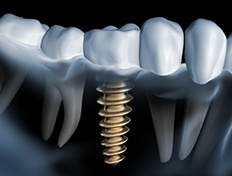 To replace a single lost tooth, an implant post is inserted into the jaw and given several months to heal. Then, an abutment is placed into the implant to allow us to secure the eventual restoration. A porcelain crown is placed on top to complete your smile and make it look as natural as possible. This solution is a much healthier way to replace one tooth than a dental bridge, which requires some of your remaining tooth structure to be permanently removed. With a dental implant, more of your natural smile remains intact.
Missing Multiple Teeth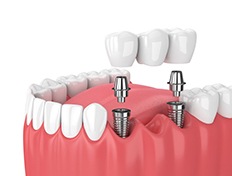 To bring back multiple consecutive teeth at the same time, a pair of dental implants can be placed inside of the jaw. This allows a three- or four-part dental bridge to be attached, effectively filling the gap in your smile without needing to modifying existing tooth enamel in the process. If you're missing several teeth at various locations throughout your mouth, we can strategically place a small number of dental implants that provide full support for a partial denture.
Missing All Teeth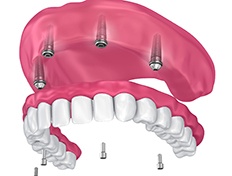 Even patients who have lost all of their teeth can enjoy a new smile with dental implants. Typically, four to six posts are placed throughout the jaw, and a full denture is secured onto them. Implant dentures eliminate all of the inconveniences of traditional dentures – they don't slip around, they let you chew all of your favorite foods with ease, they allow you to speak clearly, and they can last for decades.
Understanding the Cost of Dental Implants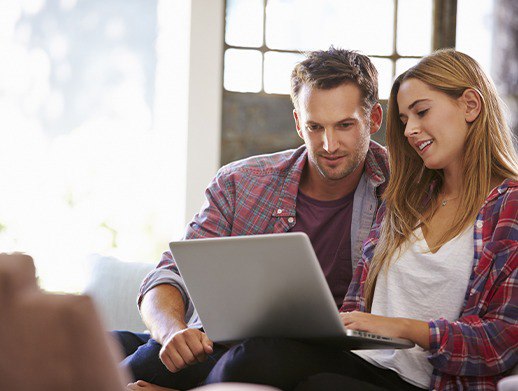 The cost of your dental implant treatment will likely vary from other patients because your needs are going to be unique to you. For example, if you only need a single implant placed or you don't need preparatory treatments (i.e., gum disease therapy, bone grafts) to receive implants, your treatment should be less expensive overall. With that said, dental implants are still considered a fantastic long-term investment because they will last for several decades. Bridges and dentures require routine replacement, making them generally cost more in the long run.
Dental Implant FAQs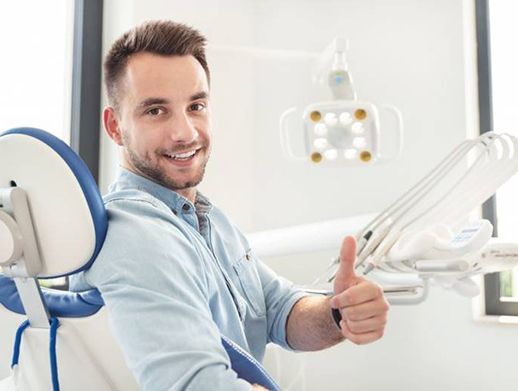 Dental implants in Skokie are a nearly perfect replica of your natural teeth. Unlike traditional dental prosthetics, they recreate the entire structure of a tooth, including the root. This allows you to enjoy several benefits not possible with other treatments. Although you're ready to discover their advantages for yourself, it's normal to have several questions before you're ready to commit to the procedure. We'll take the time to explain the process and address any concerns during your initial consultation. While you wait, here are the answers to a few of the most common questions we're asked to help ease any apprehensions.
Can I get dental implants if I have gum disease?
Dental implants can last for a lifetime with the right foundation and aftercare. As a result, you won't be a candidate for the treatment if you have active gum disease, but that doesn't mean you can't become one. Periodontal therapy will stop the infection to restore your oral health to make you a suitable candidate for the procedure. We'll create the customized treatment plan you need to treat your tooth loss with dental implants.
Will I need bone grafting before getting dental implants?
Many patients who want to replace their missing teeth with dental implants will also need bone grafting. It's a procedure that adds bone to areas that are weakened. It will create another step in your treatment plan, but it's essential to the success of your new smile if you've lost bone density. Although many patients need both procedures, it isn't always necessary. We'll perform a thorough consultation, including reviewing a CT scan of your mouth, to ensure your jawbone is healthy enough to support the posts.
Can dental implants fail?
Dental implants are the most reliable solution to replace missing teeth, but they can fail. Thankfully, the rate of failure is rare. Typically, it's less than 5%. There are several things you can do to ensure your new smile thrives, like maintaining your oral hygiene at home and visiting your dentist regularly.
Do dental implants hurt?
You'll need oral surgery to insert titanium posts into your jawbone. There's no need to worry about any discomfort because sedation or anesthesia are used to prevent any pain. As with any surgery, you can expect there to be some pain and tenderness while you heal; however, you can manage it with over-the-counter pain relievers.
Can I use my dental insurance to pay for dental implants?
Every insurance policy differs, but most plans offer some coverage for dental implants after reaching your annual allowance. A member of our team will work on your behalf with your insurance carrier to file the necessary claims and forms to lower your out-of-pocket costs. We will explain how your benefits are being used to pay for your treatment, and if there's a remaining balance. We accept several payment options to make paying for your new smile affordable, like third-party financing. We will help you find the solutions you need to replace your missing teeth without breaking the bank.