Dental Implants in Skokie, IL
Achieve Truly Comprehensive
Tooth Replacement
Having an unsightly gap in your smile can be embarrassing. When you're missing a tooth, it can alter your self-confidence adversely if you're too worried about your appearance to have time to think about anything else. Our professional staff can help you in your time of need. Dr. Brad Weiss can place dental implants in Skokie, IL to restore your self-esteem and improve your oral health. Contact Weiss Dental Arts today to learn more!
Why Choose Weiss Dental Arts for Dental Implants?
Dental Implants Placed & Restored in One Location
In-House Dental Lab for Added Convenience
Affordable Dental Financing Available
What Are Dental Implants?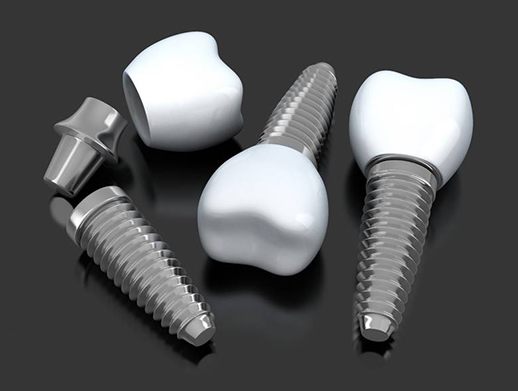 A dental implant is a small titanium rod that is surgically inserted into the socket of an absent tooth. This artificial root will eventually act as the anchor for your new tooth. After your bone and implant have fused together (thanks to a natural process called osseointegration), Dr. Weiss will be able to place an abutment and crown atop the fixture. Your dental crown (or bridge or denture, if you're replacing several teeth) can be created to blend in with the rest of your teeth and give you the radiant smile you deserve!
The 4-Step Dental Implant Process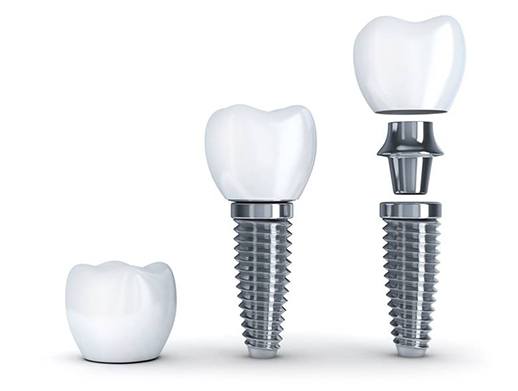 The dental implant process requires multiple appointments and takes several months longer than getting traditional dentures or bridges. However, this high-quality solution is worth waiting for! Unlike many other dental practices, our team can handle every step of the process under one roof, saving you the trouble of having to visit multiple offices. While everyone's dental implant journey is different, we've laid out some of the basics below on how dental implants work in Skokie.
Initial Dental Implant Consultation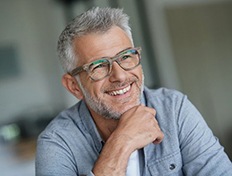 During this first appointment, we'll closely examine your smile, go over your restoration options, and work together to develop a plan to rebuild your smile, including a step-by-step timeline. Depending on the state of your oral health, we may also recommend one or more preparatory procedures, such as gum disease therapy, tooth extractions, or bone grafting, to improve your chances of dental implant success.
Dental Implant Surgery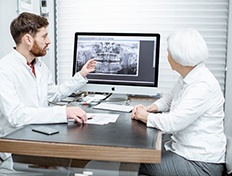 At Weiss Dental Arts, we can perform the dental implant placement surgery right here in our office. The procedure is pretty straightforward. After numbing your mouth, we make a tiny incision in the gums to expose the jawbone. Next, your implant dentist in Skokie strategically inserts the posts into the bone. Your gums are then stitched closed, and you can begin the healing process.
Dental Implant Osseointegration/Abutment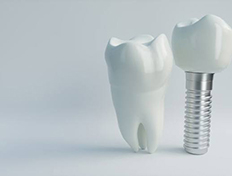 Following dental implant placement, you'll have to wait three to six months for the posts to fully fuse to your jawbone. This process is called osseointegration, and it's the key to the incredibly high success rate of dental implants.
After osseointegration is complete, you'll undergo another minor surgery in which we place abutments atop your implants. Abutments are small metal connector pieces that will allow your implants to adequately support your restoration. Once the abutments are in position, we capture impressions of that area of your mouth and use them to create your custom-made crown, bridge, or denture.
Delivery of Dental Implant Restorations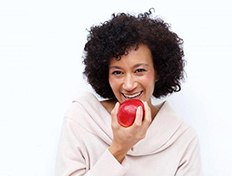 As soon as your restoration is ready, you'll return to our office, where we'll place your new teeth on top of your dental implants in Skokie. We only use the highest quality materials, such as dental porcelain, to create your restoration. You can expect your implant-retained teeth to seamlessly blend in with the rest of your smile. In fact, onlookers should not even be able to tell the difference between your implants and the rest of your teeth!
Benefits of Dental Implants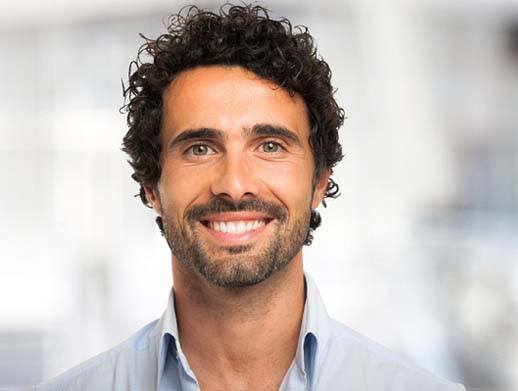 Did you know that over 500,000 people choose dental implants each year? With a variety of amazing advantages that you can't get anywhere else, it's no wonder why dental implants have become so popular. Thanks to their unique placement in the jawbone, implants give you the most natural looking, feeling, and functioning tooth replacement. Read on to learn more about their amazing benefits!
Day-to-Day Benefits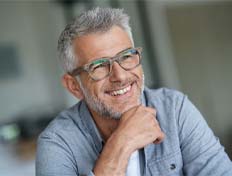 Diet: Are you tired of avoiding your favorite foods due to lost teeth or slipping dentures? Dental implants allow you to eat virtually whatever you want because they are fused to the jawbone! You can enjoy better quality of life with a more nutritious and delicious diet thanks to implants.
Maintenance: Traditional dentures can be a hassle to deal with each day because of the special care they require. Thankfully, dental implants can be maintained similar to your natural teeth. Just be sure to brush, floss, and visit our office regularly for checkups.
Appearance: Because of their placement in the jaw, dental implants allow your restorations to mimic the way your natural teeth emerge from the gums. This gives your replacements the most lifelike appearance, seamlessly blending in with any remaining teeth.
Health Benefits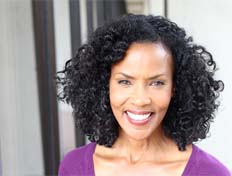 Bone health: Dental implants are the only replacement that stimulates the jawbone to prevent it from deteriorating after tooth loss. This keeps your remaining teeth from falling out while also allowing you to enjoy a more full and youthful facial appearance.
Oral health: Dental implants themselves cannot get cavities or infections, however they also lower your risk of dental problems because they are easier to clean. Studies show that patients with dental implants usually have better oral health than those with missing teeth or traditional dentures. They also keep your remaining teeth from shifting out of place, using implants to support your smile.
Mental health: Hiding your smile in social and professional settings can do serious damage to your confidence whether you've realized it or not. However, implants give you the ability to flash your smile no matter what occasion, boosting your self-esteem and confidence in the process. In other words, implants help you feel better about yourself.
Long-Term Benefits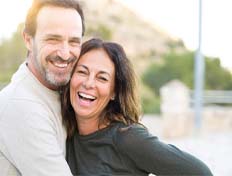 Predictability: One of the most significant benefits of dental implants in Skokie is that they have a success rate of 95% even after 10 years, making them incredibly predictable. This gives patients peace of mind before and after the surgical portion of treatment.
Longevity: Dental implants last for decades and even the rest of your life with proper care. This is much longer than other options like dentures or bridges, which will require replacement every 5 to 10 years.
Cost: Dental implants do tend to cost more compared to other solutions, however they end up paying for themselves in the long run. Because they last, you can actually save yourself money by investing in dental implants now to avoid extra replacements down the road. Implants also lower the risk of oral health issues, making dentistry less expensive in general.
Who Dental Implants Can Help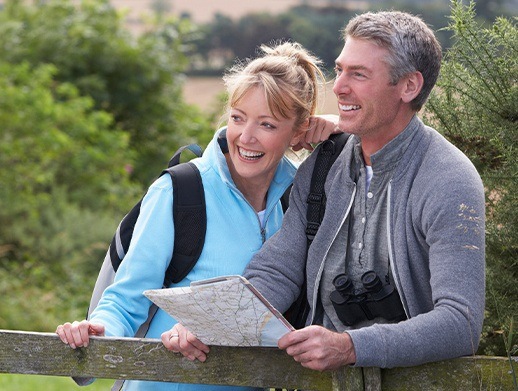 Thanks to how far dental technology and techniques have come in recent years, just about any healthy adult who has lost any number of teeth can get dental implants! Even if you're not considered a "good candidate" right away, there are ways that you can become eligible. Many of our patients actually require preliminary procedures before they're ready for dental implants in Skokie. By examining your mouth and going over your medical history, Dr. Weiss can determine whether these procedures are necessary during your initial consultation. From there, he can formulate a treatment plan to ensure long-term dental implant success.
Who Is a Good Candidate for Dental Implants?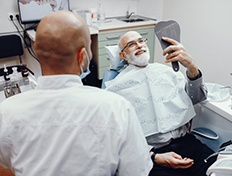 Whether you need to replace one individual tooth, all of the teeth in an arch, or somewhere in between, dental implants can seamlessly recreate your smile. However, there are generally three qualities we look for in a good dental implant candidate:
A mouth that is free from decay, infections, or other oral health issues
Overall health that is good enough for you to undergo minor surgery
A jawbone with enough density to accommodate dental implants
If you don't have all of these qualities, don't worry. As a highly experienced dental implant dentist in Skokie, Dr. Weiss can work with you to make sure your new teeth will have a healthy foundation.
Once you're ready, we'll determine which type of dental implant treatment is right for you based on the number of teeth you're missing:
Missing One Tooth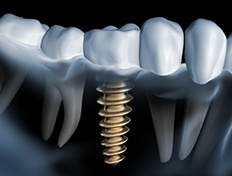 To replace a single lost tooth, an implant post is inserted into the jaw and given several months to heal. Then, an abutment is placed into the implant to allow us to secure the eventual restoration. A porcelain crown is placed on top to complete your smile and make it look as natural as possible. This solution is a much healthier way to replace one tooth than a dental bridge, which requires some of your remaining tooth structure to be permanently removed. With a dental implant, more of your natural smile remains intact.
Missing Multiple Teeth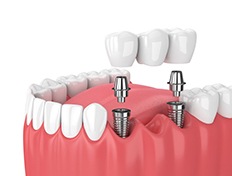 To bring back multiple consecutive teeth at the same time, a pair of dental implants can be placed inside of the jaw. This allows a three- or four-part dental bridge to be attached, effectively filling the gap in your smile without needing to modifying existing tooth enamel in the process. If you're missing several teeth at various locations throughout your mouth, we can strategically place a small number of dental implants that provide full support for a partial denture.
Missing All Teeth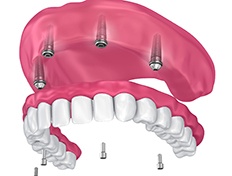 Even patients who have lost all of their teeth can enjoy a new smile with dental implants. Typically, four to six posts are placed throughout the jaw, and a full denture is secured onto them. Implant dentures eliminate all of the inconveniences of traditional dentures – they don't slip around, they let you chew all of your favorite foods with ease, they allow you to speak clearly, and they can last for decades.
Understanding the Cost of Dental Implants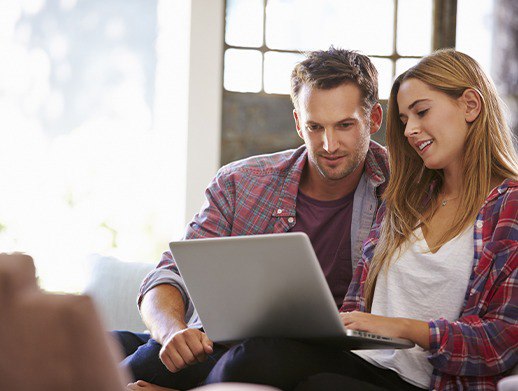 Dental implants are considered a fantastic long-term investment because they will last for several decades. Bridges and dentures require routine replacement, making them generally cost more in the long run.
The cost of your dental implant treatment will likely vary from other patients because your needs are going to be unique to you. We'll be happy to give you an estimate when we meet you in person, but until then, here's some information that may help you price out this procedure.
Preliminary Treatments & Dental Implant Surgery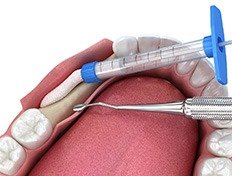 Dental implants rely on the stability of the jaw for support. While this provides them with unique durability, it also means that the gums and jaw need to be healthy enough to host them.
Some patients may therefore need some preliminary treatments before getting dental implants, like bone grafts or gum disease therapy. While these procedures will add to the cost of getting dental implants, the good news is that insurance is likely to cover at least a portion of them.
The Parts of Your Dental Implant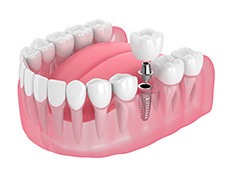 Knowing everything there is to know about dental implants requires years of study, but if you're wondering what they're likely to cost, here are some factors that can affect the price specifically:
Restoration you get, whether it's a crown, bridge, or denture
Size of the implant, which will depend on the size of your jaw and the location of the missing tooth
Number of implants you need
Material the implants and the restoration are made out of
Brand of dental implant you get
We'll be happy to discuss any of these details with you at a consultation, and how each of them will affect the overall cost estimate.
How Dental Implants Can Save You Money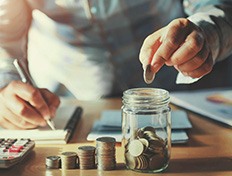 Dental implants involve the largest upfront cost of any kind of tooth replacement, which gives some more budget-conscious patients pause. However, as the saying goes: "buy nice, or buy twice."
Dental bridges and dentures are durable, but need to be replaced every five to ten years due to wear and tear. On the other hand, around 95% of dental implants remain successful at 20 years, and many of them last a lifetime when maintained well. That means what you spend in getting dental implants you're likely to save on having to replace them.
Does My Dental Insurance Cover Dental Implants?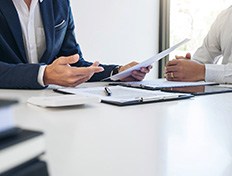 Typically, dental implants aren't covered by insurance. This varies from plan to plan and there are exceptions, but patients can't typically count on it. That said, many preliminary treatments are often covered, as is a percentage of the final restoration. Our team will be happy to help you file claims and do what we can to maximize your benefits.
Making Dental Implants Affordable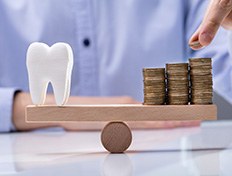 For the portions of care your insurance doesn't cover, we'll work with you to make the costs fit your budget. We partner with CareCredit for financing—patients who qualify can split their dental fees into installments, which should be easier to manage.
Depending on your circumstances, this financing often has little-to-no interest associated with it. That means that there's one less thing standing between you and a full smile!
Maintaining & Caring For Your Dental Implants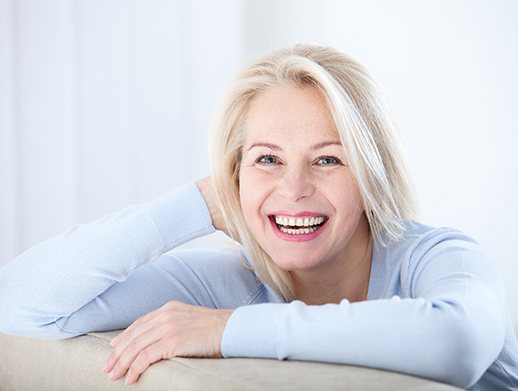 Dental implants are designed to last for decades, but you'll still need to perform routine brushing and flossing to keep them healthy. Just like how you should for your natural teeth, the tips below will help you protect your dental implants and the gum tissue surrounding them. If you have any questions or concerns regarding your tooth replacements or need advice on how to maintain their longevity, please don't hesitate to give our office a call.
Make Oral Hygiene a Priority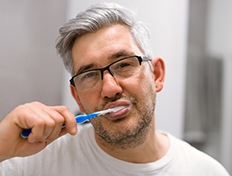 Restorations attached to your dental implant cannot develop decay, but the gum tissue surrounding your implant can certainly become infected and put your tooth replacement at risk. For that reason, oral hygiene should be a top priority to protect the health of your dental implant as well as your neighboring teeth. Brush twice a day, floss daily, and consider adding an oral rinse into your regimen. Make sure this oral rinse is alcohol-free as alcohol-based mouthwashes can cause dry mouth.
Eat a Healthy Diet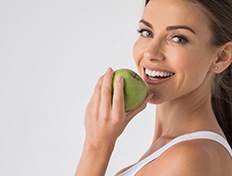 Eating a balanced diet complete with fruits, vegetables, lean proteins, dairy products, and whole grains is key to giving your mouth the vitamins and nutrients it needs to remain healthy. Avoid eating foods high in sugar or starch as these can increase your risk of tooth decay, gum disease, and even implant failure. If you do consume these foods, make sure to brush and floss about 30 minutes afterwards so food debris does not stay inside your mouth for too long.
Break Bad Habits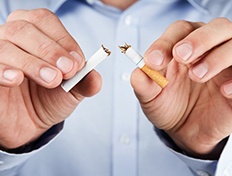 The same bad habits that can damage your natural teeth can also put your dental implants at risk. For example, using your mouth as a tool to open packages or bottles, trim your fingernails, or relieve stress (i.e. biting on pens, pencils, etc.) can easily damage your natural teeth and your dental implants. Instead, have the right tool nearby so you can perform the task safely, rather than put your teeth in harm's way.
Protect Your Dental Implants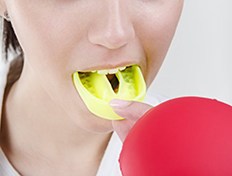 If you are particularly active, you understand how using the right protective gear is important to preventing injury. For example, using a custom mouthguard while playing contact sports (i.e. football, basketball, hockey, soccer, etc.) gives your mouth the protection it needs to prevent chips, cracks, and other damage to teeth and dental implants. Similarly, you should wear a nightguard if you grind and clench your teeth at night. These unconscious movements can put strain on your teeth, leading to chips, cracks, and even gum recession.
Schedule Regular Dental Checkups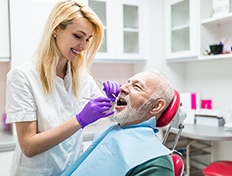 Your dental implants should be examined by our office at least once every six months so we can confirm they are healthy and that your at-home oral hygiene habits are working as intended. We can also perform a comprehensive cleaning to remove any lingering plaque (and hard to remove tartar) before you leave. If any issues do arise, we can catch them as early as possible and provide treatment as needed.
Dental Implant FAQs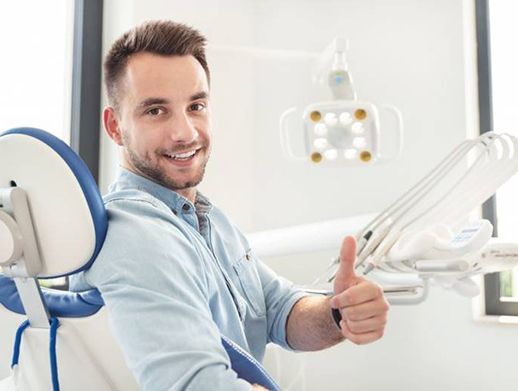 Dental implants in Skokie are a nearly perfect replica of your natural teeth. Unlike traditional dental prosthetics, they recreate the entire structure of a tooth, including the root. This allows you to enjoy several benefits not possible with other treatments. Although you're ready to discover their advantages for yourself, it's normal to have several questions before you're ready to commit to the procedure. We'll take the time to explain the process and address any concerns during your initial consultation. While you wait, here are the answers to a few of the most common questions we're asked to help ease any apprehensions.
Can I get dental implants if I have gum disease?
Dental implants can last for a lifetime with the right foundation and aftercare. As a result, you won't be a candidate for the treatment if you have active gum disease, but that doesn't mean you can't become one. Periodontal therapy will stop the infection to restore your oral health to make you a suitable candidate for the procedure. We'll create the customized treatment plan you need to treat your tooth loss with dental implants.
Will I need bone grafting before getting dental implants?
Many patients who want to replace their missing teeth with dental implants will also need bone grafting. It's a procedure that adds bone to areas that are weakened. It will create another step in your treatment plan, but it's essential to the success of your new smile if you've lost bone density. Although many patients need both procedures, it isn't always necessary. We'll perform a thorough consultation, including reviewing a CT scan of your mouth, to ensure your jawbone is healthy enough to support the posts.
Can dental implants fail?
Dental implants are the most reliable solution to replace missing teeth, but they can fail. Thankfully, the rate of failure is rare. Typically, it's less than 5%. There are several things you can do to ensure your new smile thrives, like maintaining your oral hygiene at home and visiting your dentist regularly.
Do dental implants hurt?
You'll need oral surgery to insert titanium posts into your jawbone. There's no need to worry about any discomfort because sedation or anesthesia are used to prevent any pain. As with any surgery, you can expect there to be some pain and tenderness while you heal; however, you can manage it with over-the-counter pain relievers.
Can I use my dental insurance to pay for dental implants?
Every insurance policy differs, but most plans offer some coverage for dental implants after reaching your annual allowance. A member of our team will work on your behalf with your insurance carrier to file the necessary claims and forms to lower your out-of-pocket costs. We will explain how your benefits are being used to pay for your treatment, and if there's a remaining balance. We accept several payment options to make paying for your new smile affordable, like third-party financing. We will help you find the solutions you need to replace your missing teeth without breaking the bank.