Implant Dentures – Skokie, IL
Stable and Long-Lasting Tooth Replacement
If you're missing all of your teeth on your top and/or bottom arch, chances are you've heard of or even tried dentures. Modern dentures have come a long way since the days of George Washington's famous wooden teeth, but even the most well-made denture will eventually lose its fit and slip around at embarrassing moments. Fortunately, implant dentures in Skokie can solve this problem. By anchoring a denture onto dental implants, Dr. Weiss and Dr. Fulreader can give you a much more stable and long-lasting tooth replacement. To learn more about how implant dentures can transform your smile and quality of life, contact Weiss Dental Arts today!
Why Choose Weiss Dental Arts for Implant Dentures?
Dental Implants Placed and Restored In-House
Natural-Looking Materials for Beautiful Esthetics
Experienced, Caring Dentists Who Listen to Your Needs
What Are Implant Dentures?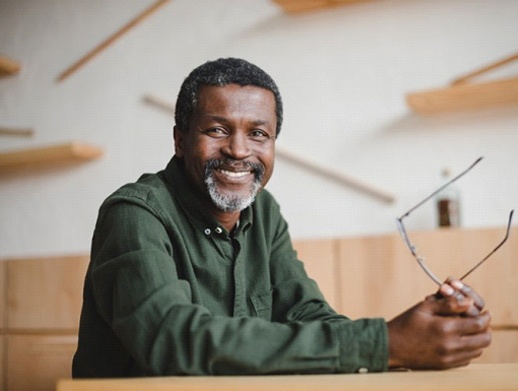 Traditional dentures sit on top of the gums or clasp onto remaining teeth, but they can sometimes slip out of place. Securing them onto dental implants in Skokie can make them much more stable. A dental implant is a titanium post that is surgically inserted into the jaw to recreate the root structure of a missing tooth. Rather than replacing each individual lost tooth with a dental implant, we can place an average of two to six implants in certain ways to support a full or partial denture.
Depending on your specific needs, we may recommend one of the two types of implant dentures:
Fixed/Permanent Implant Dentures
A fixed implant denture can only be removed by a dentist. Typically, this solution requires four to six implant posts strategically placed throughout the jawbone. The denture is then secured by abutments (metal attachments on top of the implants). You can clean it by brushing and flossing like you would natural teeth.
Removable Implant Dentures
A removable implant denture generally requires fewer implants (between two and five). It can be removed whenever you'd like, such as before bed or for cleaning. The denture snaps into place with either ball sockets or clips.
The Implant Denture Procedure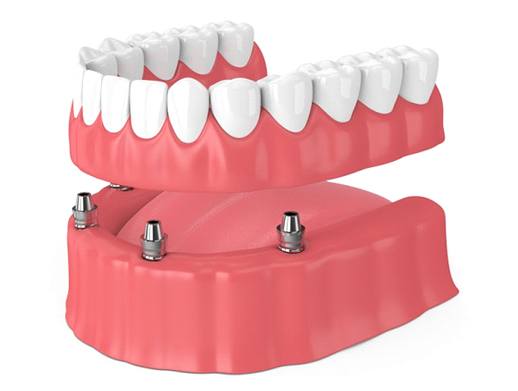 Unlike traditional dentures, implant dentures require a multi-appointment process that can take several months, but their long-term benefits make them worth the wait. Many general dentists have to refer patients to a separate oral surgeon to receive dental implants, but as an implant dentist in Skokie, Dr. Brad Weiss can perform every step of the procedure right here in our office.
During the surgery, your mouth is numbed, and your gums are opened to access the jawbone. The implants are placed at precise angles and locations. Over the next few months, the bone grows around the implants, creating a sturdy foundation for your new teeth. Abutments or attachments are then secured, and finally, your personalized denture is designed and placed.
Am I a Candidate for Implant Dentures?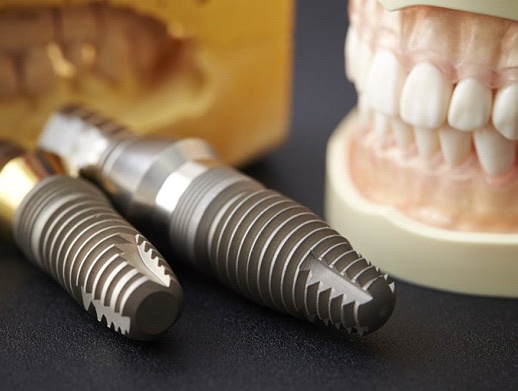 Most adults with good oral and general health are eligible for implant dentures. To be considered a good candidate, you typically must have:
Commitment to good oral hygiene
Willingness to abstain from tobacco use
Jawbone strong enough to accommodate dental implants
Even if you're not a candidate initially, we can recommend certain procedures, like bone grafting, than can prepare you for your new smile.
Benefits of Combining Dentures & Dental Implants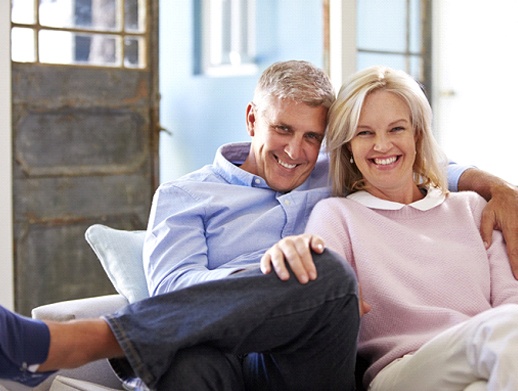 Although implant dentures take more time and money at first, they offer the following benefits over traditional dentures:
Increased stability – they shouldn't fall out or slip around while talking or eating
Renewed biting power – enjoy all of your favorite foods
Smile, laugh, and speak with the confidence that your results look natural
A comfortable fir that should never feel loose
No gum sores or irritation
Jawbone preservation
Easier cleaning and maintenance