Full-Mouth Restorations - Skokie, IL
Repair and Replace Teeth
From Top to Bottom
Have your teeth and gums suffered from damage or decay? Are your teeth malformed or in need of extensive restoration? Dr. Brad Weiss and Dr. Ali Fulreader understand that your smile may be affected by a combination of factors. Our dental office has the advanced technology to examine and evaluate your treatment options, and our team is qualified to assist the doctors during your procedures. Full-mouth restorations in Skokie, IL from our dental office could improve the function of your mouth and restore the esthetic to which you are accustomed.
No one full-mouth reconstruction treatment is quite the same as any other because each patient is unique. Your bite's needs will be identified during your initial evaluation. Our staff will be attentive and thorough during this consultation appointment so as to lessen our chances of overlooking anything. Our dentists will discuss your treatment options with you, and you'll be able to ask any questions and clear up any misunderstandings that you may have at any time. We want to make sure that you comprehend and are able to communicate your needs and expectations of full-mouth reconstruction with us.
Why Choose Weiss Dental Arts for Full-Mouth Restorations?
Experienced and Dedicated Dentists
Dental Implants Placement Available
Natural-Looking Materials for all Restorations
Full-Mouth Restoration Steps Include: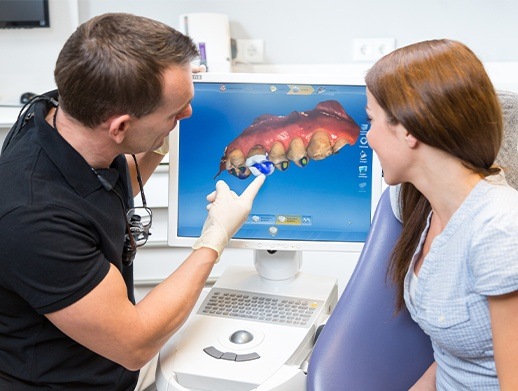 periodontal therapy.
dental implant placement and restoration.
porcelain veneer placement.
and more!
Periodontal therapy will be performed if it's discovered that bacteria has harmed your gum tissue. We can place a dental implant and fit the implant with a dental crown to fill in the gap left behind from a missing tooth. We can quickly create dental crowns with our dental office's CEREC one-visit crown technology. If you want to hide the evidence that your smile has been affected by an accident or decay, then we can bond porcelain veneers to the front of your teeth. Your full-mouth reconstruction may involve more complex procedures, but our staff will discuss your plan with you.
Because full-mouth reconstruction is performed to fix the function of your bite, more in-depth procedures may be required. Dr. Weiss and Dr. Fulreader can coordinate with other trusted specialists if necessary. Oral surgeons, endodontists and periodontists with additional skill sets may be required for some cases before we proceed with your full-mouth reconstruction.
Dr. Weiss and Dr. Fulreader can perform full-mouth reconstruction to fit any patient's needs. The technology at our dental office is advanced, which enables us to provide an array of dental services efficiently. If you would like to find out more about full-mouth reconstruction, contact us today. Our caring, gentle staff can respond to your concerns with compassion. We want to do everything within our power to restore function and health to your smile. To learn about our accepted forms of payment, please visit our new patient information page.