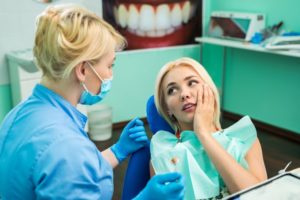 While you'll hopefully never experience a dental emergency in Skokie, not all cracked, knocked-out, or painful teeth can be avoided. Thankfully, there are several common, reliable procedures your dentist can use to get your oral health back on track. Knowing what to expect when you get to their practice in the midst of a dental emergency can help you feel more prepared in these overwhelming situations. Here are the most common procedures used to provide urgent dental care.
Dental Bonding
If you sustain slight damage to your teeth, such as a minor chip or crack, your dentist may be able to address the situation with dental bonding. This composite resin can be used to recement broken pieces of enamel back into place or even replace them entirely. In the end, your tooth will look good as new and will be protected against sensitivity and bacteria.
Dental Crown
In situations where a tooth has been severely broken or is suffering from extensive decay, a dental crown may be the best solution. These tooth-shaped caps are custom-made to slip over the existing structure to restore its strength, health, and appearance.
Gum Disease Therapy
If your dental emergency includes gums that are inflamed, sore, and bleed easily, you may have an oral health condition known as gum disease. This bacterial infection is the leading cause of tooth loss in the US, but its earliest stages can be reversed if caught early enough. Your dentist will recommend gum disease therapy to contain the infection before it can cause permanent damage.
Root Canal Therapy
Severe toothaches caused by serious infections or injury can be quickly and comfortably relieved with root canal therapy. This procedure removes the damaged and infected tissues from inside of your tooth to ease pain and prevent the issue from spreading to the surrounding teeth.
Tooth Extraction
Your Skokie dentist will always do everything they can to preserve your natural tooth with treatments like dental crowns and root canal therapy. However, if there are no other viable options to save your tooth, they may recommend an extraction. While this procedure will entirely remove whatever issue you're facing, you'll need to decide on a tooth replacement option to prevent future complications.
Tooth Reattachment
If your tooth is knocked out, your dentist may be able to reattach it if you act quickly and correctly. Avoid touching the tooth's delicate roots and store it in milk or saliva to ensure it remains in good shape. It's essential that you see your dentist within 30-60 minutes— waiting any longer than that significantly diminishes the likelihood of saving it.
Dental emergencies are often sudden and overwhelming. However, knowing which procedures your dentist may suggest when you reach their office can help relieve some of your stress!
About the Practice
If you or a loved one has a dental emergency in Skokie, IL, you can rely on Weiss Dental Arts Comprehensive, Aesthetic, & Implant Dentistry for the fast, compassionate, and quality care you need. Dr. Brad Weiss and Dr. Ali Fulreader use high quality materials and state-of-the-art technology to provide a comprehensive menu of services all under one roof. They offer same-day crowns, thorough gum disease treatment, in-office dental implant placement, and much more to help get you back to enjoying your happy, healthy, and pain-free smile as soon as possible. If you need urgent dental care, don't hesitate to contact them via their website or at (847) 864-0188.