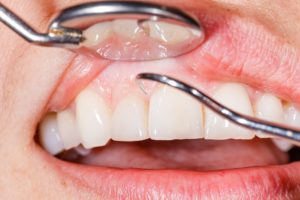 Your smile can stay healthy for a lifetime with the right care over the years. Besides brushing and flossing, your teeth and gums also rely on preventive services from your dentist. The American Dental Association recommends everyone visits their dentist every 6 months for a cleaning and checkup. Unfortunately, 42% of adults don't schedule an appointment as often as they should. If you're among the people who have a habit of skipping a dental cleaning in Skokie, you're putting your smile at risk. Here are 3 benefits of seeing your dentist regularly.
1. Reduce your overall oral health expenses.
Dentistry is designed with prevention in mind. Routine services are proven to lower your overall dental expenses. In fact, every $1 spent on prevention can save you as much as $50 on restorative or emergency treatments.
Semi-annual cleanings and checkups allow your dentist to remove harmful buildup that can lead to common oral health issues, like tooth decay and gum disease. It also allows them to monitor your teeth and gums to detect any concerning areas sooner to lessen the likeliness of needing a costly procedure down the road.
2. Improve your overall health.
Did you know your mouth is often referred to as the "gateway to your body?" Your oral and general health are entwined. There are several dental issues that can negatively impact your wellness, like gum disease.
In addition to causing tooth loss, the infection can enter your bloodstream, wreaking havoc on various systems throughout your body. You'll have an increased risk of several health concerns, including cardiovascular disease, Alzheimer's disease, and diabetic complications. Committing to your oral hygiene is the best way to keep your teeth and gums healthy to promote your overall well-being.
3. Preserve your natural teeth.
Your teeth are meant to last forever, but that isn't a reality for many Americans. Over 120 million adults in the U.S. are missing 1 or more teeth. Despite the latest innovations in dentistry, tooth loss is still a prevalent problem. With each one you lose, your jawbone will slowly shrink, causing your remaining teeth to move out of alignment.
As time passes, you'll have an increased risk of cavities, gum disease, and additional tooth loss. If you lose too many teeth, you might struggle to maintain a balanced diet because certain foods are too difficult to chew. The limitations in your diet can lead to harmful nutritional deficiencies.
Nurture a Healthy Smile
You can invest in a bright future through your oral health. Although life gets busy, take the time to commit to seeing your dentist at least twice a year. If you're concerned about the cost, your dental team will maximize your insurance benefits to help you get the care you need without breaking the bank.
About Dr. Brad Weiss
Dr. Brad Weiss has over 20 years of experience in dentistry. Besides earning his dental degree from Indiana University's School of Dentistry in Indianapolis, he spends countless hours each year continuing his education to provide quality care to his patients. If you need modern services to complement your smile, contact our office today for an appointment.