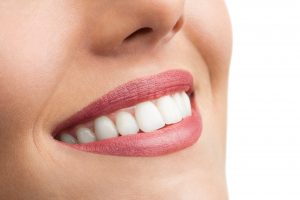 If you have ever wondered how Hollywood celebrities always seem to have perfect smiles, the answer is simple: they wear porcelain veneers! You can likely achieve a beautiful, bright smile as well by undergoing veneer treatment. However, one important thing to know before choosing veneers in Skokie is that the procedure involves removing a tiny bit of enamel. This fact makes some people pause, but there is really no reason to worry! Keep reading to learn about the veneer process and why it involves removing enamel.
What Are Porcelain Veneers?
Veneers are thin, durable shells that are permanently bonded to the front of teeth to hide dental imperfections. Typically crafted from natural-looking porcelain, veneers can improve a single tooth or completely transform an entire row of teeth!
Why Enamel Must Be Removed for Veneers
Before your dentist bonds veneers to your teeth, they must first remove a thin layer of enamel. There are two reasons for this:
Removing a small portion of enamel helps create a rough surface on which veneers can easily adhere.
Veneers would appear bulky if they were placed directly on top of teeth. Removing enamel makes room for veneers to blend in naturally with the rest of a person's smile.
While every case is different, less than a millimeter of enamel is typically removed during veneer treatment. Rest assured that your cosmetic dentist in Skokie will conserve as much natural tooth as possible in order to preserve your healthy smile.
Because enamel does not grow back, porcelain veneers are considered a permanent cosmetic procedure.
What Happens Next?
After the enamel is removed, your dentist will take impressions of your teeth and send them to the dental lab. There, your custom veneers will be crafted and sent back to your dentist's office in a few short weeks. During this waiting period, your dentist may provide you with temporary veneers to protect your teeth.
Once your permanent veneers are ready, you will head back to the dentist's office to have them placed. Your dentist will use bonding cement and a special curing light to secure the veneers to your teeth. After they are firmly attached, you can immediately get on with the rest of your day!
Am I a Good Candidate?
Veneers may be the right cosmetic solution for your smile if you want to fix any of the following dental flaws:
Chips or cracks
Stains or discoloration
Gaps
Crooked teeth
Worn teeth
Misshapen teeth
Undersized teeth
In general, candidates for veneers must have healthy teeth and gums. If you have cavities or gum disease, those issues will need to be treated first before you can begin veneer treatment.
The best way to determine if you would benefit from veneers is to schedule a consultation with an experienced cosmetic dentist in Skokie. They will carefully examine your teeth and mouth, discuss your specific goals, and create a personalized treatment plan to rejuvenate your smile!
About the Author
Dr. Brad Weiss has two full decades of experience transforming patients' smiles with cosmetic dentistry. He regularly performs veneer treatment, direct bonding, Invisalign treatment, and more at his conveniently located private practice. To learn more about porcelain veneers in Skokie, visit the Weiss Dental Arts website or call 847-864-0188.