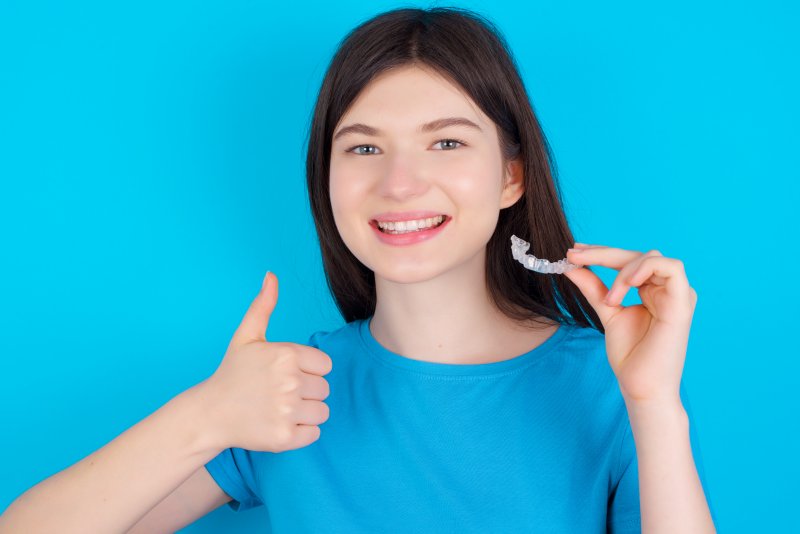 During the summer, it's easy to keep an eye on your teen to make sure that they're wearing their Invisalign aligners as long as they're supposed to. But what about when school starts again? What can you do to make sure that they're sticking to their treatment and taking care of their aligners while you're not there? The following 4 tips can help parents ensure a successful treatment process for Invisalign Teen in Skokie even when your child is not being actively supervised.
1. Pack Them Invisalign-Friendly Lunches
When your teen starts wearing new Invisalign aligners, their teeth will likely be somewhat sensitive, and the rest of their mouth may be sore. It's important to make sure they're as comfortable as possible so that they aren't tempted to stop wearing their aligners. One step you can take is to make sure that their lunch is filled with easy-to-eat foods such as yogurt, oatmeal, and soup. A meal that's easy on the teeth can make the process of adjusting to new aligners much easier for your child.
2. Make Sure That They Practice Good Oral Hygiene
Your child should be brushing their teeth after every meal before they put their aligners back in so that the food debris and bacteria that can cause cavities won't be trapped in place for long periods of time. Give them a toothbrush and travel-sized toothpaste to take to school. Check the toothpaste tube regularly to make sure that they're using it. Your child should also be flossing on a regular basis. They may have difficulty using traditional dental floss at school, so consider getting some floss picks instead.
3. Address Any Problems That Might Stop Them from Wearing Their Aligners
Your teen should be wearing their Invisalign aligners for no less than 20 hours each day. If there are any issues that are discouraging your child from meeting this wear-time, you need to help them find a solution. For example, if they are currently dealing with a lisp as a result of wearing their aligners, you can emphasize that it's only temporary and help them practice their enunciation. For teens that complain about pain and discomfort, try investing in a peroxide-based mouthwash that can soothe oral sores.
4. Make Sure Your Child's Aligners Are Protected
Even one lost or damaged aligner can end up extending Invisalign treatment. You should take whatever steps are necessary to make sure your teen is taking care of their current aligner. Stock up on extra aligner cases so that your child will always have one on hand when they need it. Also, make sure that they know the proper way to remove their aligners; grabbing them and pulling them out the wrong way repeatedly can eventually crack and warp them.
Your cosmetic dentist in Skokie can give you more ideas for helping your Invisalign teen complete their treatment at school. Make sure your child has everything they need to keep their aligners clean and intact. All the stress and worry will be worth it once you eventually see your teen's straighter, healthier smile.
About the Author
Dr. Ali Fulreader is an experienced dentist who loves helping patients of all ages improve their oral health and achieve their aesthetic goals. She is a certified Invisalign provider, meaning she has received special training in using clear aligners to help patients straighten their smiles. If you are interested in beginning Invisalign treatment for your teen, you can schedule a consultation with Dr. Fulreader by visiting the Weiss Dental Arts website or calling (847) 864-0188.